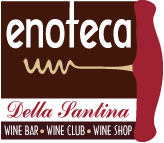 Regional and varietal wines
Shipments every other month
Invitations to winemaker dinners
Special wine education events
10% discount on retail bottle sales
Discounts on event pricing
Shipment pick up parties
WINE BAR HOURS OPEN EVERY DAY
Check online for our bar specials at EnotecaDellaSantina.com. Salute!
MON - THURS 4PM - 10PM
FRIDAY 4PM - 11PM
SATURDAY 2PM - 11PM
SUNDAY 4PM - 10PM

CLUB VINO: NO ORDINARY WINE CLUB
Featuring wines from around the world that excite and educate the palate
In 2007, we saw an opportunity to create an Italian enoteca in the heart of Sonoma Valley. By combining the social aspects of a Sonoma wine bar with the wine library of a retail shop, Enoteca Della Santina came to fruition and has carved out a niche as a unique venue for discovering local and international wines. Taking the Sonoma Enoteca one step further, we decided to bring these great wine discoveries to our customers and friends. As a result Club Vino, our Sonoma wine club, was born.
Through years of sampling and tasting a myriad of wines, we have become adept at finding hidden gems from around the world. Club Vino has allowed us an avenue to share these discoveries with our members and educate their palates far beyond the confines of just California. The wonderful combination of quality and value in wine is more evident today than when we started this journey. Join Club Vino and receive high quality wines at a fair price.
Come and explore with us! Salute!
3 exclusive and smaller production wines
Shipments every other month (February, April, June, August, October, December)
Invitations to winemaker dinners
Special wine education events
10% discount on retail bottle sales
Discounts on event pricing
Tasting events
Shipment pick up parties
$85 per shipment (plus tax, shipping & handling)

3 great wines from a chosen country/theme
Shipments every other month (February, April, June, August, October, December)
Invitations to winemaker dinners
Special wine education events
10% discount on retail bottle sales
Discounts on event pricing
Tasting events
Shipment pick up parties
$55 per shipment (plus tax, shipping & handling)

1 great wine
Specify your preferred country/countries or allow us to do the work!
Shipments every month
Invitations to winemaker dinners
Special wine education events
10% discount on retail bottle sales
Discounts on event pricing
Tasting events
Shipment pick up parties
Price ranges from $65 to your individual maximum